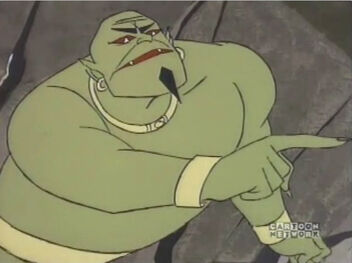 Jadal is an evil genie in the "Mystery in Persia" episode of The New Scooby-Doo Movies.
Overview
Jadal was released from his bottle by his new master, Abdullah, after being imprisoned by the Great Hajji for 10,000 years. He assists Abdullah in his plot to take over the throne. In so doing, Jadal terrorizes Scooby-Doo, Jeannie, Babu and their friends.
Physical appearance
Jadal is very large and intimidating. He has olive-green skin, a black goatee, red eyes and sharp teeth. He wears gold earrings, a bracelet and a belt.
External links
Ad blocker interference detected!
Wikia is a free-to-use site that makes money from advertising. We have a modified experience for viewers using ad blockers

Wikia is not accessible if you've made further modifications. Remove the custom ad blocker rule(s) and the page will load as expected.