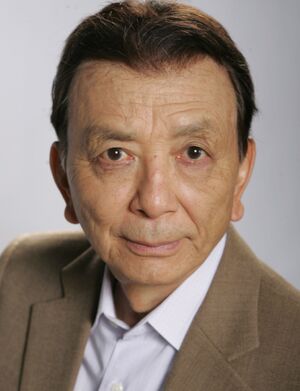 James Hong (born February 22, 1929, in Minneapolis) is an American actor of Chinese ancestry. His voice roles for Hanna-Barbera and Warner Bros. include:
Biography
James Hong was born in Minneapolis. He studied civil engineering at the University of Minnesota, but at some point along the way became interested in acting. He graduated from the University of Southern California and practiced for 1½ years as a road engineer with the County of Los Angeles. He took sick leaves and vacation time to do films. He finally quit engineering to focus on acting full time.
He is one of the founders of the East-West Players, the oldest Asian-American theater in Los Angeles. He served as president and charter member of the Association of Asian Pacific American Artists.
Hong is one of the most prolific and well-recognized Asian-American character actors of movies and television. He currently lives in Los Angeles and is planning to produce and direct his own films.
More than 40 years after losing the part of Sulu in Star Trek (1966), Hong faced off against the actor who won the role, George Takei, in an episode of Scooby-Doo! Mystery Incorporated.
External links
Ad blocker interference detected!
Wikia is a free-to-use site that makes money from advertising. We have a modified experience for viewers using ad blockers

Wikia is not accessible if you've made further modifications. Remove the custom ad blocker rule(s) and the page will load as expected.