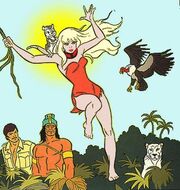 Jana of the Jungle was the backup segment to The Godzilla Power Hour on NBC. In November and early December 1978, Jana had her own time slot on Saturday mornings.
Overview
The blond, green-eyed Jana, voiced by B. J. Ward, roamed the Venezuelan rain forest in search of her lost father. She wore only a dress made of unspecified animal skin and a collar which doubled as a throwing weapon. Her primary means of travel was by swinging on vines.
Jana had two animal friends, Tiko the coatimundi (who more resembled a yapok, a South American aquatic marsupial) and Ghost the albino jaguar, and two human friends, Dr. Ben Cooper and Montaro. Among other animals, Jana has summoned a crocodile, a monkey, a bat, a snake and various tropical birds.
In January 2007, Dynamite Entertainment launched a comic book, with plot by Frank Cho and script by Doug Murray, called Jungle Girl, featuring a blond female character called Jana. She is a Tarzanesque heroine who lives in some kind of "Lost World", a jungle inhabited by dinosaurs and cavemen.
Voice cast
Episodes
The Golden Idol of the Gorgas
Katuchi Danger
The Cordillera Volcano
The Animal Snatchers
The Renegade
Rogue Elephant
The Prisoner
The Invaders
Dangerous Cargo
The Sting of the Tarantula
Countdown
Suspicion
Race for Life
Ad blocker interference detected!
Wikia is a free-to-use site that makes money from advertising. We have a modified experience for viewers using ad blockers

Wikia is not accessible if you've made further modifications. Remove the custom ad blocker rule(s) and the page will load as expected.