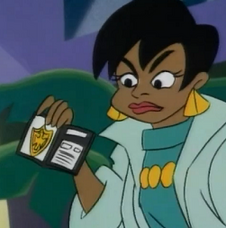 Jane Thursday is a special agent of the FBI. She appears in "Lights…Camera…Monster", an episode of A Pup Named Scooby-Doo.
Physical appearance
Jane is an African-American woman with short, black hair. She wears a greenish-gray jacket with its sleeves rolled up and a green shirt underneath, along with a skirt and shoes, which are a darker shade of green. She has yellow triangular earrings.
Personality
Jane takes her job as an FBI agent very seriously. She stopped at nothing to uncover the identity of the Coolsville Mall robber, who she (correctly) thought was Vincent Thorne.
History
Jane was investigating Stinkweed's robberies at the Coolsville Mall and was certain that Vincent Thorne was the culprit. Her sneaking around made her a suspect, but she turned out to be innocent and arrested Thorne after he was unmasked as Stinkweed.
Notes/trivia
Her name apparently is a play on Sgt. Joe Friday, the main character on Dragnet.
External links
Ad blocker interference detected!
Wikia is a free-to-use site that makes money from advertising. We have a modified experience for viewers using ad blockers

Wikia is not accessible if you've made further modifications. Remove the custom ad blocker rule(s) and the page will load as expected.