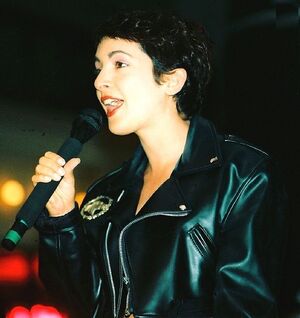 Jane Marie Genevieve Wiedlin (born May 20, 1958, in Oconomowoc, Wisconsin) is an American singer and voice actress. She was the voice of Dusk, one of the Hex Girls, in recent Scooby-Doo productions.
Biography
Jane Marie Genevieve Wiedlin was born on May 20, 1958, in Oconomowoc, Wisconsin. She was raised in Southern California, where she met Belinda Carlisle. They later joined up with three other girls to form the 1980s rock band The Go-Gos. Wiedlin played rhythm guitar, wrote many of its hit songs, and made four movies in the 1980s.
As a teenager, "Empress Jane" Wiedlin was a huge fan of the pop group Sparks, and would record the song "Cool Places" with them years later. Her current band, froSTed, came out with their first CD in late 1996. The reason the "ST" in froSTed is capitalized is that Wiedlin is a huge Star Trek fan. As a result, she appeared in Star Trek IV: The Voyage Home (1986).
External links
Ad blocker interference detected!
Wikia is a free-to-use site that makes money from advertising. We have a modified experience for viewers using ad blockers

Wikia is not accessible if you've made further modifications. Remove the custom ad blocker rule(s) and the page will load as expected.