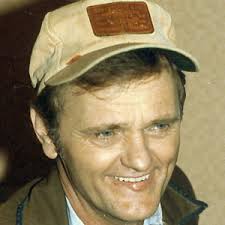 Jerry Reed (born Jerry Reed Hubbard, March 20, 1937–September 1, 2008) was an American singer and actor. He appeared in an episode of The New Scooby-Doo Movies.
Biography
Jerry Reed was a tall (6 feet ½ inch), blond country-western singer-songwriter from Atlanta, who usually appeared in films portraying good-humored Southerners. He was already writing and singing music in high school, and was signed by Capitol Records to a three-year contract in 1955. However, in 1958, he signed over to NRC Records, and appeared alongside Ray Stevens and Joe South. That was also where he met his future wife, singer Priscilla Mitchell. Jerry and Priscilla were married from July 1959 until his death, and raised two children.
Reed is well known by music fans for his C&W hits, including "She Got the Goldmine (I Got the Shaft)", "Lord, Mr. Ford", "When You're Hot, You're Hot" and "East Bound and Down". After striking up a friendship with Burt Reynolds, Reed was cast in small roles in W.W. and the Dixie Dancekings (1975) and Gator (1976). He had a natural on-screen charm, and Reynolds picked him to play trucker Cledus Snow in the hugely popular Smokey and the Bandit (1977). Reed returned to the role in Smokey and the Bandit II (1980) and Smokey and the Bandit Part 3 (1983).
External links
Ad blocker interference detected!
Wikia is a free-to-use site that makes money from advertising. We have a modified experience for viewers using ad blockers

Wikia is not accessible if you've made further modifications. Remove the custom ad blocker rule(s) and the page will load as expected.