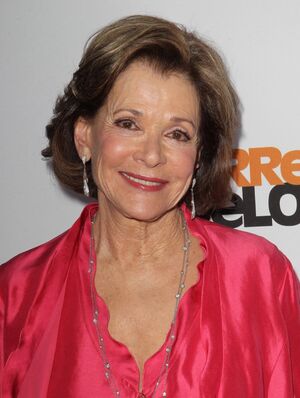 Jessica Walter (born January 31, 1941, in Brooklyn, New York) is an American actress. Her voice roles for Hanna-Barbera included:
Biography
A graduate of New York's High School of the Performing Arts and the Neighborhood Playhouse School of the Theatre, Jessica Walter has extensive theater credits that include productions both on and off Broadway. On Broadway, she has appeared in Sir Peter Ustinov's Photo Finish (which earned her the Clarence Derwent Award as Most Promising Newcomer), A Severed Head, Advise and Consent, Night Life and Neil Simon's Rumors. Her off-Broadway credits include roles at Playwrights Horizons and in Tartuffe, opposite Ron Leibman, at the Los Angeles Theater Center.
Walter's feature films include Play Misty for Me (1971), which earned her a Golden Globe nomination, and the comedy Slums of Beverly Hills (1998). She has also appeared in The Group (1966), The Flamingo Kid (1984), Grand Prix (1966), Tapeheads (1988) and PCU (1994), among other films. Walter received an Emmy Award for Best Dramatic Actress in the television series Amy Prentiss (1974). She also earned Emmy nominations for her guest-starring roles in episodes of Trapper John, M.D. and The Streets of San Francisco. Walter has starred in several series, miniseries and telefilms.
External links
Ad blocker interference detected!
Wikia is a free-to-use site that makes money from advertising. We have a modified experience for viewers using ad blockers

Wikia is not accessible if you've made further modifications. Remove the custom ad blocker rule(s) and the page will load as expected.