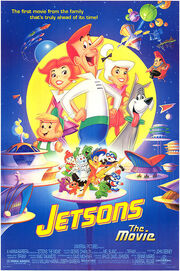 Jetsons: The Movie is an animated film released in 1990 by Universal Pictures, based on The Jetsons. It features all of the original series' voice cast, except for Patric Zimmerman as Elroy and then-pop singer Tiffany as Judy.
Elroy's original voice actor, Daws Butler, had died in 1988, so Zimmerman was given the role. Judy's original voice actress, Janet Waldo, had Judy's lines recorded, but they were taken over by the then-pop star Tiffany. Waldo would settle in later Jetsons productions.
Ad blocker interference detected!
Wikia is a free-to-use site that makes money from advertising. We have a modified experience for viewers using ad blockers

Wikia is not accessible if you've made further modifications. Remove the custom ad blocker rule(s) and the page will load as expected.