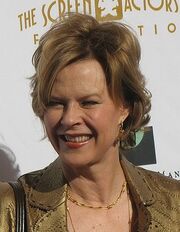 Margaret JoBeth Williams
(born December 6, 1948, in Houston) is an American actress. She was the voice of
Angel
on
Fish Police
.
Biography
JoBeth Williams was the daughter of an opera-singing father who encouraged her early interest in theater during high school. She made her professional debut at age 18 in a Houston-based musical production, then studied at Brown University in Providence, Rhode Island, with the intentions of becoming a child psychologist. The acting bug hit her again, however, and she decided to pursue theater after receiving her B.A. in English in 1970. As she worked intensely to lose her Texas twang, her early training came as a member of the Trinity Repertory Company, where she stayed for 2½ years.
Her star maker would come in the form of the strong-willed mother of three who fights to save her brood from home-invading demons in Steven Spielberg's humongous critical and box-office hit Poltergeist (1982), which also made a major star out of movie husband Craig T. Nelson. Officially in the big leagues now, she joined the star ensemble cast of The Big Chill (1983), and appeared opposite Nick Nolte in Teachers (1984). Disappointing outcomes in the lackluster sequel Poltergeist II: The Other Side (1986) and the intriguing but overlooked American Dreamer (1984) prodded her to search for more challenging work on TV.
External links
Ad blocker interference detected!
Wikia is a free-to-use site that makes money from advertising. We have a modified experience for viewers using ad blockers

Wikia is not accessible if you've made further modifications. Remove the custom ad blocker rule(s) and the page will load as expected.