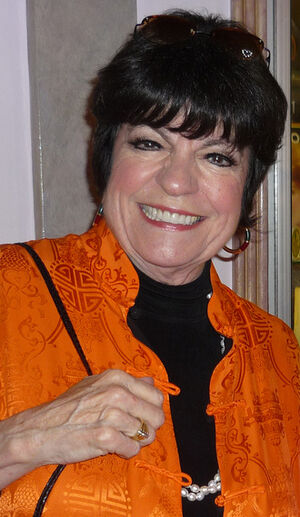 Jo Anne Worley (born September 6, 1937, in Lowell, Indiana) is an American comic actress, best known as a cast member on Rowan & Martin's Laugh-In. She was also a recurring celebrity player on game shows, including The $25,000 Pyramid. In Hanna-Barbera cartoons, she was the voice of Sgt. Bertha Blast in the Private Olive Oyl segment of The Popeye & Olive Comedy Show.
Biography
This tall (with piled-on jet-black hair), attractive, tunnel-mouthed comedienne is a one-of-a-kind commodity and certainly no shrinking violet when it comes to entertaining. Unapologetically, she adores the center stage...and vice versa.
Like several of her Rowan & Martin's Laugh-In (1967) cohorts, Jo Anne Worley zoomed to overnight cult stardom in the late 1960s but, in her case, was able to extend her wild and woolly popularity to several other levels once her "15 minutes" of fame ended. Over the years, she has situated herself nicely into night clubs, musical theater productions, game shows, talk shows, commercials, and even cartoons. Half a century later, Worley continues to delight and is instantly recognized with a mere raucous laugh and sometimes her trademark pointy digit embedded in her cheek.
In other pursuits, Worley has been active on the lecture circuit and has, since 2007, served on the board of directors for Actors and Others for Animals. She also performs in concert, typically offering parodies of well-known songs to suit her man-chasing personality. A culinary enthusiast, she has also been seen whipping up specialties on the Food Network (Ready Set Cook and Chef du jour).
External links