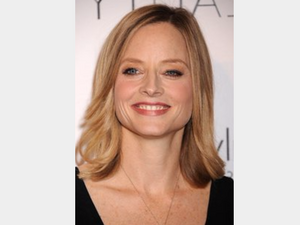 Alicia Christian "Jodie" Foster (born November 19, 1962, in Los Angeles) is an American actress and film director. For Hanna-Barbera, she performed voices for Pugsley Addams on The Addams Family (1973 animated series) and Anne Chan on The Amazing Chan and the Chan Clan.
Biography
Alicia Christian Foster was born in Los Angeles on November 19, 1962. She is the daughter of Evelyn Ella "Brandy" (Almond) Foster and Lucius Fisher Foster III, an Air Force lieutenant colonel and later real estate broker. Her parents divorced three years before she was born, and she was conceived when her mother was visiting her father for child support. Alicia's siblings nicknamed her "Jodie", a name she has used in her profession.
When she was just 3 years old, Jodie began acting in commercials, most notably for Coppertone sunblock. When she was 5, Jodie landed her first acting role on the TV show Mayberry R.F.D. (1968). She stayed very busy as a child actress, working on television programs such as The Doris Day Show (1968), Adam-12 (1968), The Courtship of Eddie's Father (1969), The Partridge Family (1970), Bonanza (1959), and Gunsmoke (1955). In movies, her roles included playing Raquel Welch's daughter in Kansas City Bomber (1972) and a delinquent tomboy in Alice Doesn't Live Here Anymore (1974). Jodie first drew attention from critics with her appearance in Taxi Driver (1976), in which she played a prostitute at the tender age of 12 (she was 13 when the movie premiered) and received her first Oscar nomination as Best Supporting Actress.
She went on to have a very successful career in her early teens with leading roles in the Disney films Freaky Friday (1976) and Candleshoe (1977). The last film Jodie made during this era was the coming-of-age drama Foxes (1980), before enrolling at Yale University. Tragedy struck Jodie during her freshman year when a crazed and obsessed fan named John Hinckley shot President Ronald Reagan to impress her.
Besides acting, Jodie has directed a few films, including Little Man Tate (1991) and Home for the Holidays (1995).
Having spent nearly her entire life in the spotlight, Jodie Foster has had one of the most substantial film careers in Hollywood history. She is one of the most respected and highest-paid actresses working today, and there is no doubt that there will be many great things ahead for this child actress turned two-time Oscar-winning superstar.
External links
Ad blocker interference detected!
Wikia is a free-to-use site that makes money from advertising. We have a modified experience for viewers using ad blockers

Wikia is not accessible if you've made further modifications. Remove the custom ad blocker rule(s) and the page will load as expected.