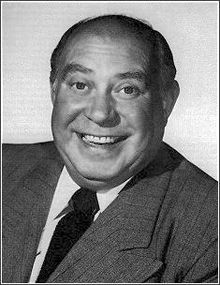 Joseph Besser (August 12, 1907–March 1, 1988) was an American actor and comedian, best known as Shemp Howard's successor in the Three Stooges films. For Hanna-Barbera, he played Babu to Julie McWhirter's Jeannie, and was later the voice of Scare Bear on Yogi's Space Race.
Biography
Joe Besser, a short, chubby, balding, childish character actor, began his career on the vaudeville circuit before breaking into films in the early 1930s. He was a frequent foil of Bud Abbott and Lou Costello in their films and played "Stinky" on their 1950s TV show.
Besser joined the Three Stooges in 1956, but quit the team in 1958 to be with his ailing wife. He spent the 1960s appearing in numerous films and TV series, including 88 performances on The Joey Bishop Show (1961).
External links
Ad blocker interference detected!
Wikia is a free-to-use site that makes money from advertising. We have a modified experience for viewers using ad blockers

Wikia is not accessible if you've made further modifications. Remove the custom ad blocker rule(s) and the page will load as expected.