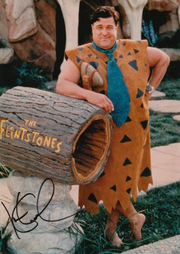 John Stephen Goodman
(born June 20, 1952, in St. Louis) is an American comic actor, best known for his role on the TV sitcom
Roseanne
. He played
Fred Flintstone
in
the live-action Flintstones film
.
Biography
John Stephen Goodman is a U.S. film, television, and stage actor. He was born in St. Louis, to Virginia Roos (Loosmore), a waitress and saleswoman, and Leslie Francis Goodman, a postal worker who died when John was a small child. He is of English, Welsh, and German ancestry.
Goodman is best known for his role as Dan Conner on the ABC series Roseanne (1988–97), for which he won a Best Actor Golden Globe award in 1993. He is also noted for appearances in the films of the Coen brothers, with prominent roles in Raising Arizona as an escaped convict, in Barton Fink (1991) as a congenial murderer, in The Big Lebowski as a volatile bowler and in O Brother Where Art Thou? as a cultured thief. Additionally, Goodman's voice work has appeared in numerous Disney films, including the voice for "Sulley" in Monsters, Inc.
Having contributed to more than 50 films, Goodman has also won two American Comedy Awards and hosted Saturday Night Live 14 times.
External links
Ad blocker interference detected!
Wikia is a free-to-use site that makes money from advertising. We have a modified experience for viewers using ad blockers

Wikia is not accessible if you've made further modifications. Remove the custom ad blocker rule(s) and the page will load as expected.