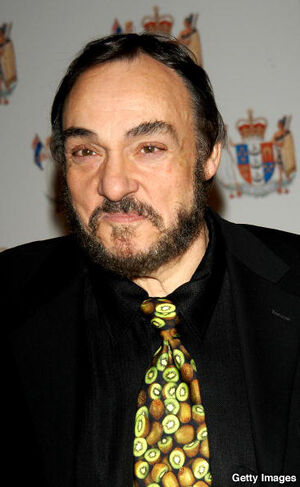 John Rhys-Davies (born May 5, 1944, in Ammanford, Wales) is a Welsh actor. He was the voice of Charles Brickens in A Flintstones Christmas Carol.
Biography
Acclaimed British actor John Rhys-Davies graduated from the University of East Anglia. He is probably best known to film audiences for his roles in the blockbuster hits Raiders of the Lost Ark (1981) and Indiana Jones and the Last Crusade (1989). Rhys-Davies was introduced to a new generation of fans in the blockbuster trilogy The Lord of the Rings (The Lord of the Rings: The Fellowship of the Ring [2001], The Lord of the Rings: The Two Towers [2002] and The Lord of the Rings: The Return of the King [2003]) in the role of Gimli the dwarf. He has also had leading roles in Victor/Victoria (1982), The Living Daylights (1987) and King Solomon's Mines (1985).
Rhys-Davies, who was raised in England, Africa and Wales, credits his early exposure to classic literature for his decision to pursue acting and writing. He later refined his craft at London's renowned Royal Academy of Dramatic Arts. His television credits include James Clavell's Shogun (1980) and Noble House (1988), Great Expectations (1989), War and Remembrance (1988) and Archaeology (1991).
An avid collector of vintage automobiles, Rhys-Davies has a host of theater roles to his credit, including "The Misanthrope", "Hedda Gabler" and most of Shakespeare's works. He divides his time between Los Angeles and the Isle of Man.
External links
Ad blocker interference detected!
Wikia is a free-to-use site that makes money from advertising. We have a modified experience for viewers using ad blockers

Wikia is not accessible if you've made further modifications. Remove the custom ad blocker rule(s) and the page will load as expected.