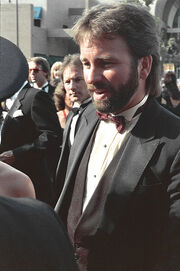 Jonathan Southworth "John" Ritter
(September 17, 1948–September 11, 2003) was an American actor, best known as the male lead on the
ABC
sitcom
Three's Company
. He was the voice of Inspector Gil on
Fish Police
.
Biography
The son of a legendary country singer/actor Tex Ritter and his wife, Dorothy Fay, who was also an actress, John Ritter started out his life as Jonathan Southworth Ritter, born in Burbank, California, on September 17, 1948. After his father married Dorothy Fay Southworth in 1941, the couple had their first child, Tom Ritter, who had been diagnosed with cerebral palsy and became a lawyer, but John was destined to follow in his parents' footsteps. He was enrolled at Hollywood High School, where he was a student body president and became the most popular student ever.
Ritter's acting debut was on an episode of Hawaii Five-O (1968), playing various roles. On Dan August (1970), he played a campus revolutionary, The next year, he appeared as the Rev. Matthew Fordwick on The Waltons (1971). His guest-starring spot was so popular that he was offered a recurring role on the show. Instead, he made more guest appearances, on Medical Center (1969), M*A*S*H (1972), The Bob Newhart Show (1972), The Streets of San Francisco (1972), Kojak (1973) and, once again, as a preacher on Mary Tyler Moore (1970) and Rhoda (1974), among many others. While working on The Waltons, he received word that his legendary father had passed away, just a day after New Year's Day 1974.
In late 1975, ABC picked up the rights for a new series based on a British sitcom, Man About the House (1973), and Ritter beat out 50 other actors, including a young Billy Crystal, to get a major role. The first pilot was trashed, and to improve it, Joyce DeWitt, an unknown actress, played the role of Janet Wood, along with Suze Lanier-Bramlett as the dumb blonde, Chrissy Snow. Unlike the first pilot, it did better but the producers still needed a change and Suzanne Somers came to the show at the very last minute to play "Chrissy". The series, Three's Company (1976), was born. When it debuted as a mid-season replacement, it became a ratings hit, like many other sitcoms of the 1970s, and it focused mainly on his character, Jack Tripper, an admirable chef who lived in an apartment with two attractive women, while pretending to be gay.
Ritter died six days before his 55th birthday in the same hospital in which he was born, the Providence Saint Joseph Medical Center in Burbank, California. He was a brilliant comedian and a passionate actor, who wanted to make everybody laugh.
External links
Ad blocker interference detected!
Wikia is a free-to-use site that makes money from advertising. We have a modified experience for viewers using ad blockers

Wikia is not accessible if you've made further modifications. Remove the custom ad blocker rule(s) and the page will load as expected.