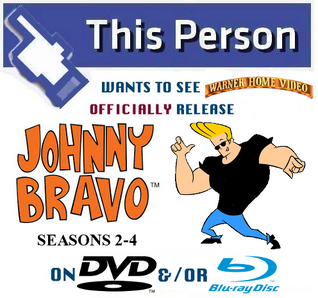 Johnny Bravo was one of the first original comedy series on Cartoon Network. it was broadcast from July 1997 to August 2004.
Overview
Johnny Bravo is one of several comedy series created by nonprofessional animators for Cartoon Network. Van Partible created the series and wrote some of the episodes. Its pilot episode, produced in 1997, was part of the What a Cartoon! show.
The series centers on Johnny Bravo (voiced by Jeff Bennett), a muscular, boorish, and dimwitted self-proclaimed womanizer with a pompadour hairstyle and an Elvis-like voice. The series is set in Aron City, a nod to Elvis Presley's middle name. Episodes typically revolve around Johnny trying to get a woman to go on a date with him, though his advances are usually rejected and result in the woman in question causing him harm in a comedic way. Johnny's companions are Bunny Bravo (Brenda Vaccaro), his lively, extroverted mother, and Little Suzy (Mae Whitman), a talkative and intelligent little girl from the neighborhood who has a crush on Johnny.
In other media
Johnny Bravo was the host of JBVO: Your All-Request Cartoon Show, a Sunday program block on Cartoon Network from April 2, 2000, to May 21, 2001.
A video game titled Johnny Bravo: Date-O-Rama! was released for the Nintendo DS and PlayStation 2 consoles.
Characters from Johnny Bravo are featured in the Cartoon Network games Cartoon Network: Block Party, Cartoon Network Racing, Cartoon Network Speedway, several browser-based Flash games on Cartoon Network's Web site, and Cartoon Network Universe: FusionFall.
Home media releases
Johnny Bravo: Season One was released on Region 1 DVD on June 15, 2010. It comprises the series' first 13 half-hour episodes, along with a look-back documentary, pencil tests, and audio commentaries.
External links
Ad blocker interference detected!
Wikia is a free-to-use site that makes money from advertising. We have a modified experience for viewers using ad blockers

Wikia is not accessible if you've made further modifications. Remove the custom ad blocker rule(s) and the page will load as expected.