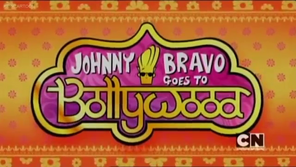 Johnny Bravo Goes to Bollywood
is an American-Indian TV special for
Cartoon Network
. Based on the H-B hit series of the same name, After watching a True Hollywood Stories-type documentary in which he is considered a forgotten star, Johnny Bravo travels to Mumbai, the entertainment capital of India, to prove himself he is still popular, confusing Bollywood, India, with Hollywood and Indiana respectively. Eventually Johnny finds himself in the middle of a murder plot to kill Bollywood's greatest star,
Jiggy
(Johnny's Indian equivalent and rival).
Trivia
Mumbai, formerly called Bombay, is a sprawling, densely populated city on India's west coast. On the Mumbai Harbour waterfront stands the iconic Gateway of India stone arch, built by the British Raj in 1924. Offshore, nearby Elephanta Island holds ancient cave temples dedicated to Shiva. The city is also famous as the heart of the Hindi-language Bollywood film industry.
DYK Fact
Did you know, India is a country located in southern Asia? With over 1.2 billion people, India is the most populous democracy in the world. It is a federal constitutional republic governed under a parliamentary system consisting of 29 states and 7 union territories.
Ad blocker interference detected!
Wikia is a free-to-use site that makes money from advertising. We have a modified experience for viewers using ad blockers

Wikia is not accessible if you've made further modifications. Remove the custom ad blocker rule(s) and the page will load as expected.