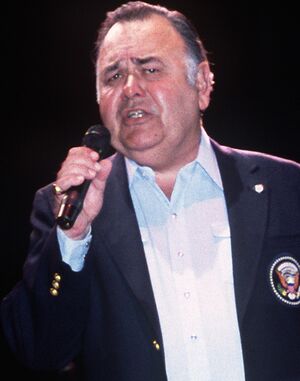 Jonathan Harshman Winters Jr. (November 11, 1925–April 11, 2013) was an American comedian. He voiced himself and Maude Frickert in "The Frickert Fracas", an episode of The New Scooby-Doo Movies, and gave improvisation lessons to Nancy Cartwright.
Winters' other voice roles for Hanna-Barbera included:
Biography
Jonathan Harshman Winters Jr. was born in 1925. His father, Jonathan Harshman Winters Sr., was a banker who became an alcoholic after being crushed in the Great Depression. His parents divorced in 1932. Jonathan Jr. and his mother then moved to Springfield, Ohio, to live with his grandmother. There his mother remarried and became a radio personality.
Winters joined the Marines during his senior year of high school. Upon his discharge, he entered Kenyon College and later transferred to Dayton Art Institute. He met his wife, Eileen Schauder, in 1948 and they married a month later. They remained married until her death in January 2009. They have a son, Jay, who is a contractor, and a daughter, Lucinda, who is a talent scout for movies.
Winters got his start in show business by winning a talent contest. This led to a children's TV show in Dayton in 1950. This led to a game show and a talk show. Denied a requested raise, Winters moved the family to New York with only $56 in their pockets. Within two months, he was getting nightclub bookings.
Winters suffered two nervous breakdowns, one in 1959 and another in 1961. He made 10 Grammy-nominated comedy recordings and won once.
Winters' drag character of Maude Frickert, portrayed as a distinct character on The New Scooby-Doo Movies, was inspired by character actress Maudie Prickett.
External links