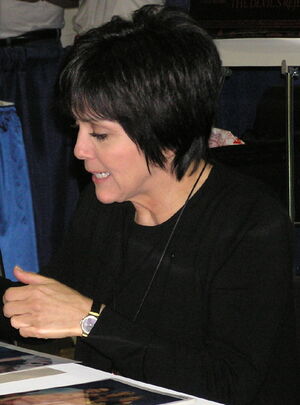 Joyce Anne DeWitt (born April 23, 1949, in Wheeling, West Virginia) is an American actress, best known for her role as Janet Wood on the ABC sitcom Three's Company. She appeared as herself in the Hanna-Barbera telefilm The B.B. Beegle Show.
Biography
Joyce Anne DeWitt was born the second of four children to parents Paul and Norma DeWitt on April 23, 1949, in Wheeling, West Virginia, but grew up in Indiana. She began taking acting lessons when she was in high school. Although her father was hardly thrilled at Joyce's ambition, she persuaded him to let her major in theater in college.
DeWitt soon moved to UCLA, where she received her master's degree. After college, she worked as a legal secretary while going from audition to audition. Months passed before ABC offered her a choice of two comedy pilots but gave her only 24 hours to decide on which. After reading both scripts in a hurry, she chose the one about one guy living with two girls: Three's Company (1976). She chose well: The other show never sold. She had been in numerous plays before, but became familiar to TV viewers as the sensible, down-to-earth brunet roommate Janet Wood, who often wore a football jersey.
DeWitt became famous and, while many celebrities would automatically welcome the huge amounts of attention, she usually kept to herself and didn't care too much for publicity.
External links
Ad blocker interference detected!
Wikia is a free-to-use site that makes money from advertising. We have a modified experience for viewers using ad blockers

Wikia is not accessible if you've made further modifications. Remove the custom ad blocker rule(s) and the page will load as expected.