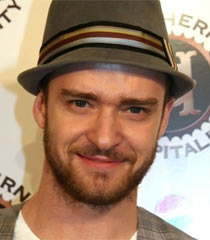 Justin Randall Timberlake (born January 31, 1981, in Memphis, Tennessee) is an American singer and actor. He was the voice of Boo Boo in the 2010 film based on Yogi Bear.
Biography
Justin Randall Timberlake was born on January 31, 1981, in Memphis, Tennessee, to Lynn (Bomar) and Randall Timberlake, whose own father was a Baptist minister.
At the age of 11, he appeared on the show Star Search (1983), and even though he didn't win, it didn't dampen his ambitions. He also appeared on The All New Mickey Mouse Club (1989), where his co-stars included Britney Spears, Ryan Gosling, Keri Russell, Christina Aguilera and future band-mate J.C. Chasez.
At age 14, Timberlake became a member of the boy band *NSYNC. In 1998, the group released their self-titled debut album. They became a big hit with fans and made a place for themselves in the music world with a succession of big-selling albums. In the beginning of 2002, Timberlake spent time working on and writing songs for his debut solo album. During this time, he broke up with his longtime girlfriend, Britney Spears. The release of the solo album, Justified, came in November 2002. Songs from his solo album include "Like I Love You", "Cry Me a River" and "Rock Your Body".
Timberlake has branched out into an acting career, having most recently starred in The Social Network (2010), Friends with Benefits (2011), and Trouble with the Curve (2012).
He has been married to actress Jessica Biel since October 2012.
External links
Ad blocker interference detected!
Wikia is a free-to-use site that makes money from advertising. We have a modified experience for viewers using ad blockers

Wikia is not accessible if you've made further modifications. Remove the custom ad blocker rule(s) and the page will load as expected.