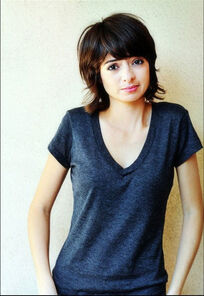 Kate Micucci (born March 31, 1980, in New Jersey) is an American actress, comedian, singer-songwriter, and artist. She is one half of the musical comedy duo Garfunkel and Oates. Her first major television exposure was her role as Stephanie Gooch in Scrubs.
She is the voice of Velma Dinkley on Be Cool, Scooby-Doo!.
External links
Ad blocker interference detected!
Wikia is a free-to-use site that makes money from advertising. We have a modified experience for viewers using ad blockers

Wikia is not accessible if you've made further modifications. Remove the custom ad blocker rule(s) and the page will load as expected.