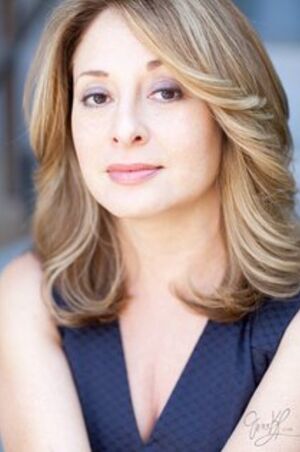 Kathleen "Kate" Miller (born October 24, 1969, in Cincinnati) is an American actress. For Cartoon Network, she was the voice of Debbie Dupree on Sealab 2021.
Biography
Kate Miller was born in Cincinnati and raised in rural West Virginia. She left home at the age of 16 to do summer stock theatre in Kentucky. That same year, she finished high school at Interlochen Arts Academy in Michigan. She then headed west to San Diego and acquired her B.F.A. in theatre. She headed for New York City shortly thereafter. She made her career debut in the Broadway comedy Moon Over Buffalo with Carol Burnett. A few seasons later, she found herself doing the Broadway revival of Amadeus with Michael Sheen, rehearsing in London with Sir Peter Hall before its Los Angeles and Broadway runs.
While Miller continued to work in Broadway and off-Broadway theatre, television and film roles appeared, along with an abundant commercial and voice-over career. She has also been heard as the promo voice and narrator for Animal Planet, Discovery Channel, HBO, MTV, VH1, and Lifetime.
In this arena, Miller has also been lucky enough to do animation work. She is the voice of Debbie Dupree in Adam Reed's Sealab 2021 and Grace Ryan in Frisky Dingo, both series for the Cartoon Network/Adult Swim, as well as sundry roles on Dora the Explorer. She can also be heard on many video games, such as Manhunt, Red Faction Guerrilla, Guild Wars 2 and Final Fantasy.
She currently lives with John DiMaggio.
External links
Ad blocker interference detected!
Wikia is a free-to-use site that makes money from advertising. We have a modified experience for viewers using ad blockers

Wikia is not accessible if you've made further modifications. Remove the custom ad blocker rule(s) and the page will load as expected.