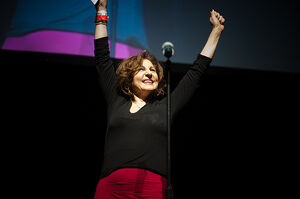 Kathy Ann Najimy (born February 6, 1957, in San Diego) is an American comic actress. In Scooby-Doo! Pirates Ahoy!, she was the voice of Sunny St. Cloud.
Biography
Kathy Najimy was born and raised in San Diego. She is the daughter of Samia (Massery) and Fred Najimy, a postal worker, both of Lebanese ancestry. She attended Crawford High School and began her film career in the early 1990s, with several minor roles. She got her breakthrough screen role as Sister Mary Patrick in the Whoopi Goldberg comedy Sister Act (1992). She reprised this role in the sequel, Sister Act 2: Back in the Habit (1993). She is best known as the voice of Peggy Hill on King of the Hill (1997).
Najimy lives in Los Angeles with her husband, actor/singer Dan Finnerty (the Dan Band), and their daughter, Samia Najimy Finnerty.
External links
Ad blocker interference detected!
Wikia is a free-to-use site that makes money from advertising. We have a modified experience for viewers using ad blockers

Wikia is not accessible if you've made further modifications. Remove the custom ad blocker rule(s) and the page will load as expected.