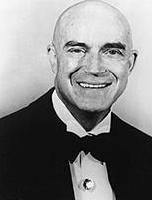 Keene Holbrook Curtis (February 15, 1923–October 13, 2002) was an American voice actor, best known as the narrator on Space Stars. His other voice roles for Hanna-Barbera included Pastmaster on SWAT Kats: The Radical Squadron and Pontius Pilate in The Greatest Adventure: Stories from the Bible.
Biography
Keene Curtis was discovered by Orson Welles when Welles directed a college production of "Macbeth". Welles cast him in the role of Lennox in his 1948 motion picture adaptation of the play, which launched Curtis' film career.
Curtis spent 12 years as a stage manager, beginning in 1949 as an assistant stage manager on a tour of the Martha Graham Dance Company, and later for Katharine Cornell and Guthrie McClintock.
Curtis was best known for his bald-pated Daddy Warbucks in "Annie" and flamboyant Alban in "La Cage aux Folles" on the musical stage. He later won a bit of notice as a recurring character on the NBC sitcom Cheers (1982): the snippy, calculating upstairs restaurant owner, John Allen Hill.
Curtis won Broadway's 1971 Tony Award as Best Supporting or Featured Actor (Musical) for "The Rothschilds".
External links
Ad blocker interference detected!
Wikia is a free-to-use site that makes money from advertising. We have a modified experience for viewers using ad blockers

Wikia is not accessible if you've made further modifications. Remove the custom ad blocker rule(s) and the page will load as expected.