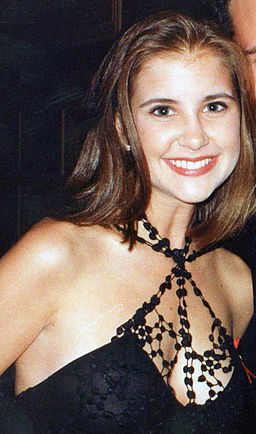 Kellie Noelle Martin (born October 16, 1975, in Riverside, California) is an American actress. She was the voice of Daphne Blake on A Pup Named Scooby-Doo.
Trivia
Kellie Martin got her start in acting when her aunt, a nanny for Michael Landon's children, showed Kellie's picture to Landon. He asked Kellie to audition, she won a guest spot on Landon's Father Murphy (1981), and thus began her acting career.
Martin was a contestant on the game show Card Sharks, hosted by Bob Eubanks, during youth week when she was 11 years old. In introducing herself, she said she wanted to grow up to be a film director. She won $2,600 and almost won a trip to Hawaii, but missed it by one card.
Martin is the national spokeswoman for lupus, since her younger sister, Heather, died of the disease in 1998.
External links
Ad blocker interference detected!
Wikia is a free-to-use site that makes money from advertising. We have a modified experience for viewers using ad blockers

Wikia is not accessible if you've made further modifications. Remove the custom ad blocker rule(s) and the page will load as expected.