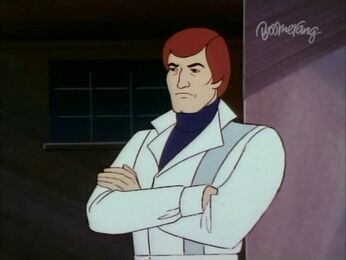 Ken Rogers is a racer in "The Spooky Case of the Grand Prix Race", an episode of The Scooby-Doo Show.
Physical appearance
Ken is a Caucasian male with an average-looking build. He wears a white 1960s-style race jacket over a navy pullover. He has auburn hair, combed over from the left.
History
He dressed up as the Phantom Racer to scare people away so he could steal cars and sell them overseas.
External links
Ad blocker interference detected!
Wikia is a free-to-use site that makes money from advertising. We have a modified experience for viewers using ad blockers

Wikia is not accessible if you've made further modifications. Remove the custom ad blocker rule(s) and the page will load as expected.