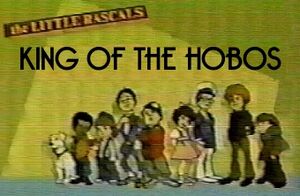 First aired: December 4, 1982
Story by: Unknown
Duration: 11 minutes
Cast
Summary
After the Rascals discover that Porky's food obsession has gotten the better of him and he ate all of the gang's food, the gang is angry with him and banned him from the treehouse as punishment. Porky is sad, and runs away as a result. He eventually befriends a hobo named Boxcar Bill, who is desperate to find a job. Porky and Bill meet up with the gang and explain he needs a job. Darla hires Bill to wash the windows of her house.
Notes/Trivia
Ad blocker interference detected!
Wikia is a free-to-use site that makes money from advertising. We have a modified experience for viewers using ad blockers

Wikia is not accessible if you've made further modifications. Remove the custom ad blocker rule(s) and the page will load as expected.