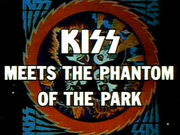 Kiss Meets the Phantom of the Park
is a live-action telefilm, produced by Hanna-Barbera in 1978 for
NBC
. It premiered on October 28 of that year.
Plot
The members of the rock band Kiss try to thwart a diabolical plan by the mad scientist Abner Devereaux. He has discovered a way to clone humans into robots at an amusement park, and he plans to use the Kiss concert as a platform for his scheme. Kiss must use their special powers to stop Devereaux.
Trivia
Kiss was unhappy with the movie. Gene Simmons went as far as saying, "It's a good movie, if you're on drugs."
The speaking voice of Peter Criss was dubbed by Michael Bell.
The film was edited with different scenes and new music for foreign release as Attack of the Phantoms. This version of the film can be found on the Kissology Vol. 2 DVD set.
Cast
Peter Criss as Cat Man
Ace Frehley as Space Ace
Gene Simmons as the Demon
Paul Stanley as Star Child
Anthony Zerbe as Abner Devereaux
Carmine Caridi as Calvin Richards
Deborah Ryan as Melissa
John Dennis Johnston as Chopper
John Lisbon Wood as Slime
Lisa Jane Persky as Dirty Dee
John Chappell as Snede
Terry Lester as Sam
Don Steele as himself
Richard Hein as Guard #1
Brion James as Guard #2
External links
Ad blocker interference detected!
Wikia is a free-to-use site that makes money from advertising. We have a modified experience for viewers using ad blockers

Wikia is not accessible if you've made further modifications. Remove the custom ad blocker rule(s) and the page will load as expected.