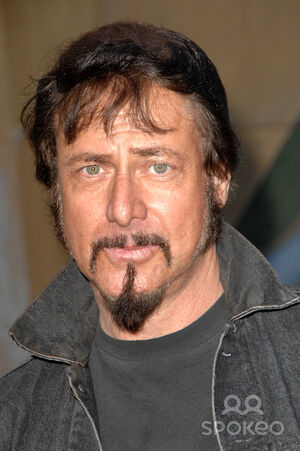 Larry Bishop (born November 30, 1948, in Philadelphia) is an American actor. He played Ken Sharp in C.H.O.M.P.S.
Biography
Larry Bishop was born on November 30, 1948, in Philadelphia, and grew up in New Jersey. He's the son of famous Rat Pack comic Joey Bishop. Larry attended high school in Beverly Hills, California. After graduation, Larry was briefly in an improvisational group whose other members included Rob Reiner, Albert Brooks and Richard Dreyfuss. Larry played the hook-handed drummer Abraham in Wild in the Streets (1968). He achieved his enduring cult popularity with his portrayals of scruffy bikers in The Savage Seven (1968), Angel Unchained (1970) and Chrome and Hot Leather (1971).
Moreover, Larry did guest spots on such TV shows as The Dukes of Hazzard (1979), Barnaby Jones (1973), Laverne & Shirley (1976), Barney Miller (1974), Kung Fu (1972), Love, American Style (1969) and I Dream of Jeannie (1965). Although he appeared alongside fellow biker movie regular Adam Roarke in the dim-witted comedy How Come Nobody's on Our Side? (1975) and had a sizable supporting role in The Big Fix (1978), Bishop's acting career sadly ran out of gas in the early 1980s. Larry bounced backed in the mid-1990s by writing the script for the mobster black comedy Underworld. He also has a substantial part in this film. Bishop then wrote, directed, co-produced and co-starred in the equally offbeat and uproarious Mad Dog Time (1996).
External links
Ad blocker interference detected!
Wikia is a free-to-use site that makes money from advertising. We have a modified experience for viewers using ad blockers

Wikia is not accessible if you've made further modifications. Remove the custom ad blocker rule(s) and the page will load as expected.