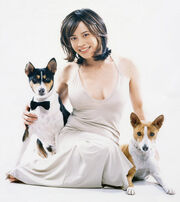 Lauren Tom
(born August 4, 1961, in Chicago) is an American actress. Her roles for Hanna-Barbera and Warner Bros. include:
Biography
Lauren Tom is an Obie Award-winning actress, known for her role as a dutiful daughter in the film The Joy Luck Club (1993), and a recurring role as Ross' girlfriend on NBC's Friends (1994).
On television, Tom was a series regular in NBC's DAG (2000) as Delta Burke's secretary, Ginger Chin, and on ABC's Grace Under Fire (1993) with Brett Butler.
On Broadway, she has appeared in A Chorus Line, Hurlyburly and Doonesbury, and has worked with directors such as Peter Sellers and Joanne Akalaitis at the Goodman and Guthrie Theaters, the La Jolla Playhouse and the Kennedy Center.
Her one-woman show, "25 Psychics", an engaging, humorous look at her quest for inner peace, premiered at HBO's U.S. Comedy Arts Festival in Aspen. The show received Dramalogue Awards for Best Performance and Best Direction.
She has a son, Oliver, with Curt Kaplan, to whom she has been married since October 1999.
External links
Ad blocker interference detected!
Wikia is a free-to-use site that makes money from advertising. We have a modified experience for viewers using ad blockers

Wikia is not accessible if you've made further modifications. Remove the custom ad blocker rule(s) and the page will load as expected.