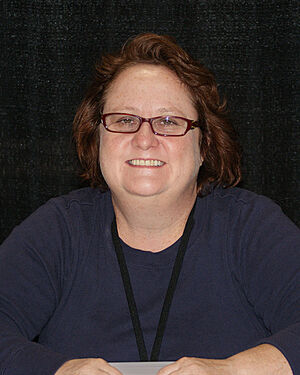 Maile Flanagan (born May 19, 1965, in Honolulu) is an American actress. She provided the voice of an unnamed boy in Tom and Jerry: The Magic Ring.
Biography
Maile Flanagan was born in Honolulu. She lived in Bangkok, Thailand, and later in Nuremberg and Munich, Germany, and then returned to the United States to attend Boston College. After college, she was in the improv comedy troupe Every Mother's Nightmare with Wayne Wilderson, Tom McCarthy, Andrea Beutner (Hutchman), Kevin Kappock, Peter Civetta and Nancy Walls (Carell) and others in Minneapolis. She did stand-up and improv in Minneapolis at the Comedy Gallery, Knuckleheads and Dudley Riggs' Brave New Workshop. She then moved to Los Angeles with the Theatre 911's production of Bad Seed, which won an LA Weekly award for Best Comedy Ensemble.
Flanagan has acted in television shows, commercials, animation and film. She was nominated for an Annie Award for Voice Acting in an Animated Television Program at the 32nd Annual Annie Awards in 2005.
Flanagan has numerous Los Angeles theater credits, including working with writer/director Justin Tanner at Third Stage in Burbank in his shows "Wife Swappers", "Pot Mom", "Oklahomo!", "Zombie Attack!" and "The Strip".
External links
Ad blocker interference detected!
Wikia is a free-to-use site that makes money from advertising. We have a modified experience for viewers using ad blockers

Wikia is not accessible if you've made further modifications. Remove the custom ad blocker rule(s) and the page will load as expected.