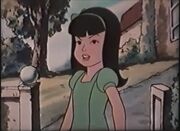 Maria is a Latina character from The Little Rascals animated series. She made only two appearances during the series' second and final season. Upon moving in to Greenpoint, she became close friends with Darla Hood in her first appearance, "A Not-So Buenos Dias", which made Alfalfa feel suspicious. Her only other appearance was in "The Zero Hero", which served as the series finale. She was never seen in any of the Our Gang theatrical shorts.
It could be inferred that the inclusion of a Latina character in the Little Rascals animated series during the 1983-84 season may have been designed to provide a more diverse series of cultural characters among some of the shows on ABC's Saturday morning lineup during the 1983-84 season, including the Ruby-Spears series, Rubik the Amazing Cube, which had an entire cast of Latina characters, and premiered on ABC during that season, along with two music video segments featuring the Latino pop group Menudo, who also recorded its theme song.
Notes/Trivia
Although unconfirmed, Maria's last name may be Hernandez. If true, her full name was also used as a character in a Scooby-Doo video game as early as 2000.
Ad blocker interference detected!
Wikia is a free-to-use site that makes money from advertising. We have a modified experience for viewers using ad blockers

Wikia is not accessible if you've made further modifications. Remove the custom ad blocker rule(s) and the page will load as expected.