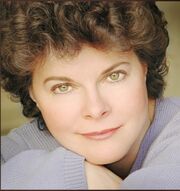 Marsha Clark (birth date unavailable) is an American actress. She performed voices for Maggie Magma and Miss Feldspar in A Flintstones Christmas Carol and a female ranger in Yogi the Easter Bear.
Trivia
A native of Cleveland, Marsha Clark is best known for her work on the soap operas The Guiding Light, One Life to Live and Days of Our Lives. She has done voices for The Yogi Bear Show; The Flintstones; Tom and Jerry; Droopy, Master Detective, and many other animated films and TV series. She has many on-camera nighttime television credits as well, including Rules of Engagement, Desperate Housewives, Private Practice, Still Standing and Malcolm in the Middle.
Clark has performed stand-up comedy at Catch a Rising Star and The Improv in New York.
While on The Guiding Light, Clark wrote and produced a parody titled The Guiding Plight, which is on YouTube.
☀ https://youtu.be/2WzuoR4H4ZM
External links
Ad blocker interference detected!
Wikia is a free-to-use site that makes money from advertising. We have a modified experience for viewers using ad blockers

Wikia is not accessible if you've made further modifications. Remove the custom ad blocker rule(s) and the page will load as expected.