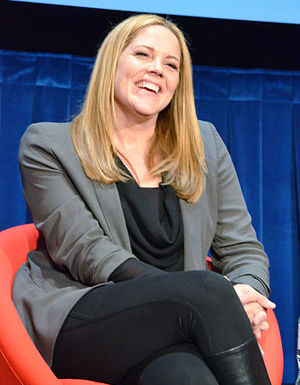 Mary Catherine McCormack (born February 8, 1969, in Plainfield, New Jersey) is an American actress. She was the voice of Ms. Richards in Scooby-Doo! WrestleMania Mystery.
Biography
Mary McCormack began her acting career performing in a stage production of Gian Carlo Menotti's Christmas opera, Amahl and the Night Visitors. "I was 12 but looked like an 8-year-old boy," she recalls. "As luck would have it, none of the boys in town could sing, so I got the part and wore a hat."
McCormack continued working regionally throughout New Jersey and continued her education at Trinity College in Hartford, Connecticut. At Trinity, she majored in English and painting and continued her stage work in many more musicals. After finishing an acting program at the William Esper Studio, she has worked in many New York theaters, including The Atlantic Theatre Company, Alice's 4th Floor and Naked Angels.
McCormack has been married to Michael Morris since July 2003. They have three children.
External links
Ad blocker interference detected!
Wikia is a free-to-use site that makes money from advertising. We have a modified experience for viewers using ad blockers

Wikia is not accessible if you've made further modifications. Remove the custom ad blocker rule(s) and the page will load as expected.