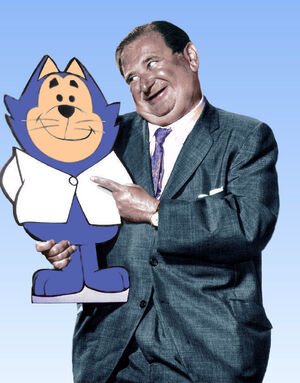 Maurice Lionel Gosfield (January 28, 1913–October 19, 1964) was an American comic actor. He was the voice of Benny the Ball on Top Cat.
Biography
Maurice Gosfield was born on January 28, 1913, in New York City, but was raised in Philadelphia and later Evanston, Illinois. In Evanston, he began acting with the Ralph Bellamy and Melvyn Douglas Players, later joining the summer stock theater circuit in 1930. He made his Broadway debut as Manero in the play Siege in 1937, and his other stage credits included The Petrified Forest, Three Men on a Horse and Room Service. During World War II, he served in the U.S. Army as a Tec 4 in the 8th Armored Division.
From 1955 to 1959, Gosfield played Pvt. Duane Doberman in The Phil Silvers Show (originally titled You'll Never Get Rich in its first season).
In 1959, Gosfield was nominated for a Primetime Emmy for Best Supporting Actor in a Comedy Series. He was also the voice of Benny the Ball in the animated cartoon series Top Cat (Series) (1961/62), which was partly based on the Sergeant Bilko series.
On October 14, 1964, while he was performing in a play at New York Theatre, Gosfield kept losing his balance and repeatedly falling asleep. He was diagnosed as having critical hypertension and was given seven different medications, which he was told to take for the rest of his life. On October 17, Gosfield suffered a heart attack and was rushed to New York Hospital, where he was reportedly not breathing and CPR was performed. After he was admitted, his condition improved, and as a result, his close friend Arnold Stang (the voice of Top Cat) told him that a remake of Top Cat was in the works, and that Gosfield's role was waiting for him when he recovered. Tragically, only two hours after Stang left, Gosfield suffered a second and instantly fatal heart attack on October 19, 1964, and Stang was phoned the next morning. Stang then told producers William Hanna and Joseph Barbera, who were both devastated by Gosfield's sudden death, and they decided not to make a new Top Cat series, as they couldn't find an adequate replacement for Benny the Ball's voice.
Maurice Gosfield was buried at Long Island National Cemetery, Suffolk County, New York.
External links