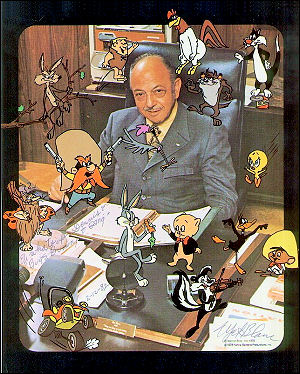 Mel Blanc (May 30, 1908 - July 10, 1989; aged 81) was one of the most prolific voice actors ever to work in the entertainment industry. Although he started out his career performing on radio, Mel rose to greater fame by the 1940s for voicing many of the characters from the Warner Bros. theatrical cartoons; including Bugs Bunny, Daffy Duck and Porky Pig. As a result, he became the first voice actor to receive on-screen credit for his work (though according to his autobiography, it was also due to producer Leon Schlesinger turning him down for a raise). After the expiration of his exclusive contract with WB in 1960, Mel started working for Hanna-Barbera when he began voicing Barney Rubble on The Flintstones.
In 1961, he was in a near-fatal car accident. During his recuperation, Mel performed his lines for The Flintstones from his bed (though Daws Butler substituted for him in a few episodes).
Mel once commented that he never heard one person say a bad word about Joe Barbera.
One of Mel's last roles was in Jetsons: The Movie, where he reprised the character of Mr. Spacely from the TV show. The movie was released in the summer of 1990, a year after his death.
Hanna-Barbera Roles
Barney Rubble
Bubba McCoy (from Where's Huddles?)
Bully Brothers (from Penelope Pitstop)
Captain Caveman
Chugga-Boom (from Penelope Pitstop cartoons)
Cosmo G. Spacely
Droopalong Coyote (from Ricochet Rabbit cartoons)
Dino (Fred Flintstone's pet)
Hardy Har Har (from Lippy the Lion cartoons)
Quack-Up (from Galaxy Goof-Ups cartoons)
Secret Squirrel
Speed Buggy
Yak Yak (from Penelope Pitstop cartoons)
and more
References
Barbera, Joe. "My Life in 'Toons."
Blanc, Mel. "That's Not All, Folks!"