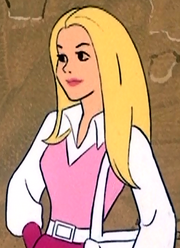 Merilee is a character on Butch Cassidy and the Sundance Kids. Voiced by Judy Strangis, she plays the tambourine in Butch Cassidy's band. She is Butch's girlfriend.
Physical appearance
Merilee is the taller of the two girls in Butch Cassidy's band. She has blond hair and usually wears a pink blouse with long white sleeves, a short lavender skirt, a white belt, and white go-go boots.
Merilee's wardrobe would later be worn by Gloria Glad during the first two seasons of the Richie Rich cartoon series, only Gloria wore flat dress shoes instead of go-go boots.
Gallery