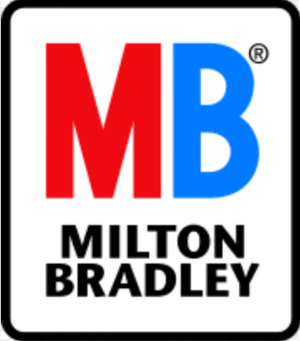 The Milton Bradley Company is an American game company established by Milton Bradley in Springfield, Massachusetts, in 1860. It is a publisher of board games and sometimes video games. In 1920, it absorbed the game production of McLoughlin Brothers, formerly the largest game manufacturer in the United States, and in 1987, it purchased Selchow and Righter, makers of Parcheesi and Scrabble.
Milton Bradley itself was taken over by Hasbro Inc. in 1984. Now wholly owned by Hasbro, it is still retained as one of Hasbro's brands, similar to the manner in which Parker Brothers is one of Hasbro's brands. During the late 1980s and early 1990s, Milton Bradley marketed a series of games (such as HeroQuest) in North America that were developed in the United Kingdom by Games Workshop (GW) that drew heavily from GW's Warhammer Fantasy universe, albeit without explicit reference to the Warhammer product line.
Milton Bradley was sued by two men who claimed to have presented the original concept for Dark Tower to Milton Bradley in the late 1970s, at which point, MB declined to pursue it, but thereafter "independently" developed the game. As part of the resolution of the lawsuit, Milton Bradley pulled the game off the market, and it was never republished.
Hanna-Barbera games
Scooby-Doo, Where Are You! (1973)
Scooby-Doo and Scrappy-Doo (1983)
External links
Ad blocker interference detected!
Wikia is a free-to-use site that makes money from advertising. We have a modified experience for viewers using ad blockers

Wikia is not accessible if you've made further modifications. Remove the custom ad blocker rule(s) and the page will load as expected.