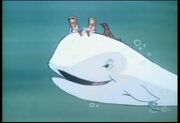 Moby Dick is a whale character on Moby Dick and Mighty Mightor. Unlike his literary namesake, this Moby Dick was friendly to humans.
Overview
Moby Dick befriended two young boys, Tom and Tub, whom he rescued from carnivorous sharks. The whale accompanied the boys and their pet seal, Scooby, on undersea adventures.
Episodes
The Sinister Sea Saucer
The Electrifying Shoctopus
The Crab Creatures
The Sea Monster
The Undersea World
The Aqua-Bats
The Iceberg Monster
The Shark Men
The Saucer Shells
Moraya, the Eel Queen
Toadus, Ruler of the Dead Ships
The Cereb-Men
The Vortex Trap
The Sand Creatures
The Sea Ark
The Shimmering Screen
Soodak the Invader
The Iguana Men
Ad blocker interference detected!
Wikia is a free-to-use site that makes money from advertising. We have a modified experience for viewers using ad blockers

Wikia is not accessible if you've made further modifications. Remove the custom ad blocker rule(s) and the page will load as expected.