Monte Halperin, OC, OM (August 25, 1921–September 30, 2017), better known by his stage name Monty Hall, was the creator and longtime host of the television game show Let's Make a Deal. His only involvement with Hanna-Barbera was a guest appearance in a second-season episode of Wait till Your Father Gets Home.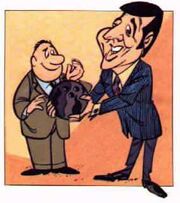 Biography
Hall regularly hosted several incarnations of Deal between 1963 and 1986 in the United States and Canada. He guest appeared on one episode of the revival hosted by Billy Bush in 2003, and for six episodes of the CBS version, hosted by Wayne Brady (one week in March 2010, and the 50th anniversary episode in 2013). He also served as a celebrity player on Password Plus and also appeared on Tattletales and The Newlywed Game alongside his wife, Marilyn, in 1974 and 2010 respectively.
Aside from Deal, he also hosted two game show revivals, both of which were short-lived: Beat the Clock in 1979/80, and a syndicated Canadian version of Split Second during the 1986/87 season.
A mathematical problem involving probability was named after Hall, called the Monty Hall problem. This situation was seen in the episode "Scooby's Luck of the Irish", aired during the second season of The Richie Rich/Scooby-Doo Show.
Hall died of heart failure at age 96 on September 30, 2017, in his residence in Beverly Hills, California. This was nearly four months after his wife of 70 years, Marilyn, died on June 5 that same year.
External links