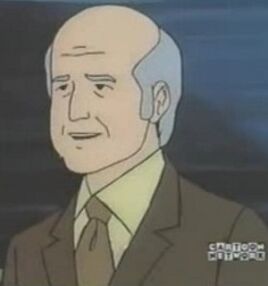 Mr. Griffith is the principal of Velma Dinkley's old high school. He appears in "The Spirited Spooked Sports Show", an episode of The New Scooby-Doo Movies.
History
The real Mr. Griffith was captured by his twin brother and Jesse Finster, who made him prisoner. After he was captured, his twin brother impersonated Mr. Griffith and canceled the All-Sports Benefit Show.
External links
Ad blocker interference detected!
Wikia is a free-to-use site that makes money from advertising. We have a modified experience for viewers using ad blockers

Wikia is not accessible if you've made further modifications. Remove the custom ad blocker rule(s) and the page will load as expected.