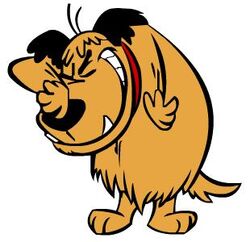 Muttley is Dick Dastardly's canine sidekick. He's a mixed-breed dog, and he first appeared in Wacky Races. Dastardly and Muttley were paired together in various later Hanna-Barbera series, including Yogi's Treasure Hunt, as bumbling villains.
Muttley does not really talk; his main examples of speech are his trademark snicker - a wheezing smoker's laugh (usually made at Dick's expense) - and a mushy, sotto voce grumble against an unsympathetic or harsh Dick (usually along the lines of "Sassafrassarassum Rick Rastardly!").
Don Messick had used Muttley's distinctive laugh for the character of Griswold in an episode of Top Cat as well as for another Hanna-Barbera canine, Precious Pupp, several years earlier. He also repurposed it for Alexandra Cabot's cat, Sebastian, on Josie and the Pussycats in 1970, and for Mumbly on The Tom & Jerry/Grape Ape/Mumbly Show and Laff-a-Lympics. In more recent years, Billy West is currently the voice to Muttley.
External links
Gallery