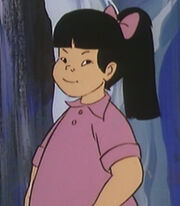 Nancy Chan is one of the main characters and Chan kids from The Amazing Chan and the Chan Clan. She is is voiced by Debbie Jue. She is a robust 9-year-old with a ponytail, and the most accident prone of the Chan offspring. She's usually hungry and loves to crack a joke. She's almost always seen with Flip, Mimi and Scooter, though she once committed a caper in the company of Alan and Tom.
Gallery
Ad blocker interference detected!
Wikia is a free-to-use site that makes money from advertising. We have a modified experience for viewers using ad blockers

Wikia is not accessible if you've made further modifications. Remove the custom ad blocker rule(s) and the page will load as expected.