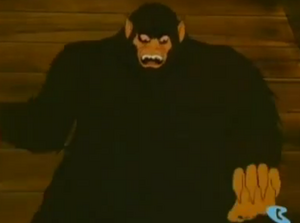 The Neanderthal Monster of Devil's Rock appears in "Scooby Roo", an episode of The New Scooby and Scrappy-Doo Show. It was the disguise of Darcy, the sheep ranch hand of Devil's Rock Sheep Station.
History
Darcy discovered uranium ore near Devil's Rock. He didn't want the owner and his boss, Hugh Smallwood, and others to get at the ore, so he dressed up as the Neanderthal Monster.
External links
Ad blocker interference detected!
Wikia is a free-to-use site that makes money from advertising. We have a modified experience for viewers using ad blockers

Wikia is not accessible if you've made further modifications. Remove the custom ad blocker rule(s) and the page will load as expected.