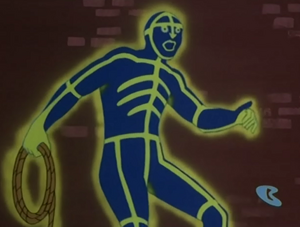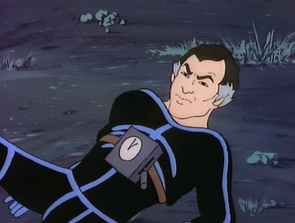 The Neon Phantom is the villain in "The Neon Phantom of the Roller Disco!", an episode of Scooby-Doo and Scrappy-Doo. He was the disguise of Bill Walker.
Physical appearance
The phantom has a pure blue body with glowing green lights all over him, somewhat resembling a skeleton.
Personality
As the phantom, Walker reveled in his villainy, often delivering one-liners as he deprived establishments of their electricity.
Powers and abilities
The phantom had the ability to drain electricity and cause entire buildings to black out. He did this by hooking a dimmer with a timer to the master circuit, so that when he struck, the power would go out on cue.
History
As the phantom, Walker wanted to scare customers away from the roller disco so he wouldn't have to move from his home.
External links
Ad blocker interference detected!
Wikia is a free-to-use site that makes money from advertising. We have a modified experience for viewers using ad blockers

Wikia is not accessible if you've made further modifications. Remove the custom ad blocker rule(s) and the page will load as expected.