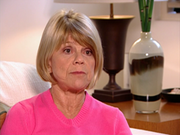 Nicole Jaffe (born May 23, 1941, in Montréal) is a Canadian-American actress. She was the original voice of Velma Dinkley on Scooby-Doo, Where Are You! and The New Scooby-Doo Movies. An incident with Jaffe's glasses during a table reading for the first episode, "What a Night for a Knight", inspired the running gag of Velma dropping her glasses and being unable to see without them.
Jaffe retired from acting in 1973, after marrying Brad David and becoming an agent for the William Morris Agency. She reprised the role of Velma in two animated direct-to-video movies, Scooby-Doo and the Legend of the Vampire (2002) and Scooby-Doo and the Monster of Mexico (2003).
External links
Ad blocker interference detected!
Wikia is a free-to-use site that makes money from advertising. We have a modified experience for viewers using ad blockers

Wikia is not accessible if you've made further modifications. Remove the custom ad blocker rule(s) and the page will load as expected.