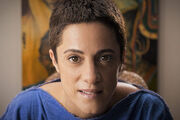 Nika Futterman (born October 25, 1969, in New York City) is an American actress. Her voice roles related to Hanna-Barbera include:
Biography
Nika Futterman has been involved in the world of acting and singing since early childhood, when she performed in plays, musicals and student films. She spent a few years as an on-camera actress, co-starring in such TV shows as Chicago Hope and Murphy Brown. Most recently, however, she has devoted her time exclusively to voiceovers and has brought life to characters in cartoons such as CatDog, Hey Arnold!, Mike, Lu and Og, Xyber 9, Piggley Winks, ChalkZone and Kim Possible, and video games such as The Matrix, Alter Echo, X-Men and Crimson Skies.
External links
Ad blocker interference detected!
Wikia is a free-to-use site that makes money from advertising. We have a modified experience for viewers using ad blockers

Wikia is not accessible if you've made further modifications. Remove the custom ad blocker rule(s) and the page will load as expected.