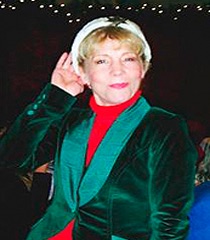 Noelle North (born July 11, 1949) is an American actress. Her roles for Hanna-Barbera included Slouchy Smurfling on Smurfs and Kelly on Fred and Barney Meet the Thing.
Trivia
Noelle North attended Los Angeles Valley College in the 1970s. Among her classmates were veteran actress Merry Anders and soon-to-be-famous Christopher Norris, with whom, in fact, she appeared in a shocking episode of Police Story (1973).
External links
Ad blocker interference detected!
Wikia is a free-to-use site that makes money from advertising. We have a modified experience for viewers using ad blockers

Wikia is not accessible if you've made further modifications. Remove the custom ad blocker rule(s) and the page will load as expected.