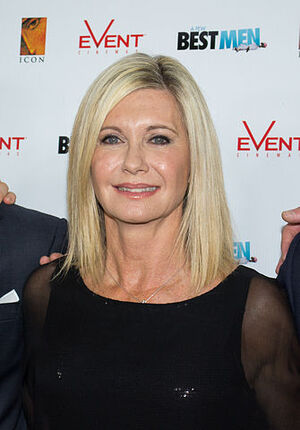 Olivia Newton-John (born September 26, 1948, in Cambridge, England) is an English singer and actress who has also lived in Australia and the United States. She appeared as herself in the Timeless Tales from Hallmark videocassette series.
Biography
Actress/singer Olivia Newton-John was born on September 26, 1948, in Cambridge, Cambridgeshire, England. She lived there until she was 5 years old, and her family relocated to Australia when her father was offered a job as the dean of a college in Melbourne. When she was a teen she returned to live in England with her mother, after winning a singing talent contest. She had many hit singles and appeared on TV series with Cliff Richard, as well as in the film Tomorrow (1970). For a while she was engaged to Bruce Welch, a member of The Shadows, who backed Richard.
Olivia took the advice of a friend, and in the mid-'70s she left Britain to take up residence in America to help further her singing career.
External links
Ad blocker interference detected!
Wikia is a free-to-use site that makes money from advertising. We have a modified experience for viewers using ad blockers

Wikia is not accessible if you've made further modifications. Remove the custom ad blocker rule(s) and the page will load as expected.