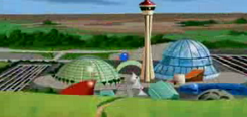 The Omaha World's Fair is featured in "High-Tech House of Horrors", an episode of What's New, Scooby-Doo?.
The fair is an exhibition event for emerging technology. When the gang visited it, they got involved in a case of a House of the Future running wild.
External links
Ad blocker interference detected!
Wikia is a free-to-use site that makes money from advertising. We have a modified experience for viewers using ad blockers

Wikia is not accessible if you've made further modifications. Remove the custom ad blocker rule(s) and the page will load as expected.